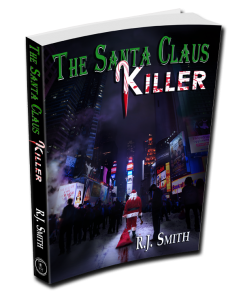 Reviewed in the United States on December 21, 2019
Am new to Mr Smith's works and could not put the book down.I could tell that he used his growing up in New York City and the traditions that are celebrated in the Christmas season.Very well developed characters.Richard Blake was really creepy hearing his parents voices in his head telling him what to do beyond the grave was really creepy.I couldn't put the book down and looking to read his next installment Beach Bodies.Bravo to Mr Smith .
Reviewed in the United States on April 3, 2016
RJ Smith has been coined the master of suspense and without a doubt The Santa Claus Killer proves his moniker true in spades. The quality storytelling with quick quips, brutal blood curdling killing, and page turning anticipation make it a must read for those of you with steady stomachs and visual minds. RJ through his storytelling has brought this novel of 2D black words on white paper into a realm of visual realism 3D that make me feel like a Silvertongue (character from Inkheart) when I read aloud, I haven't gotten a Feeling like that from a book since reading The Lord of the Rings for the first time when I was in school at the age of 8. I thoroughly recommend The Santa Claus Killer.
Reviewed in the United States on January 29, 2016
So unexpected for a "Santa Claus" mystery!!! Difficult to put the book down in spite of questions about what the lead character would do next. In no way is this a fanciful Christmas story. The ending is completely unexpected and the drama does not waiver from start to finish.
Reviewed in the United States on January 24, 2016
Well done for a debit novel
Reviewed in the United States on March 27, 2015
Totally Mindblowing… I couldn't wait until I could turn the page. Very surreal. I wanted to keep reading and reading until the last page. I just love crime novels and this hit the spot. Cant wait to read the next in the series. I'm sure I will love that one as well.
Reviewed in the United States on November 23, 2014
Sorry had to change my review I did finish the novel and it was spooky and also had humor!
I would purchase his next novel as I also bought catalyst and loved it !
was a all night stay awake novel,
How ever I did find the insert to a web site that sold people jailed for crimes a bit different!
Maybe I am not changing with the times?
Jo
Reviewed in the United States on May 11, 2014
I enjoyed reading this treat from RJ Smith. I found the character dialogue and author narration very enjoyable, as well as his writing style. Kind of reminded me of Warren Murphey (author of the destroyer series) a bit with the prose, and narration. It was 398 pages of thrilling excitement. Mr. Smith has changed the way I will forever look at a department or mall Santa again, and I will think twice before letting my child sit on Santa's lap ever again. One last thing, read this thrilling great read from RJ Smith, or you might end up Santa's naughty list.
Reviewed in the United States on April 26, 2014
RJ Smith is a master of suspense. THE SANTA CLAUSE KILLER is a psychological tour-de-force. It's a fast-paced novel with twists, turns, and lots of gore! Get ready for a roller coaster ride that will leave you wanting more. Highly recommended…and I would love to see a movie based on this novel. I'm definitely looking forward to his next novel, CATACLYSM, which is coming this summer!
Reviewed in the United States on March 11, 2014
I started this book on my lunch break at work. Took me right into its depths. It never let me down from start to finish. A few surprises thrown in. The way a book should be!
Reviewed in the United States on February 4, 2014
Holy Cow! This book was intense! Written amazingly well! Twists and turns that I never would have thought possible! RJ Smith is an amazing writer!