The Monsters In The Woods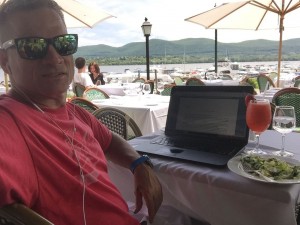 Hey, fans, and welcome to summer… they say it's going to be brutally hot. Climate change, maybe something worse, perhaps the beginning of the end. What do I know about it? All I can do is follow the research and stay out of the politics. I have enough to think about.
I've just returned from a seriously shortened excursion. You see, I was planning on spending my summer in the mountains of New York, had planned to finish writing Mountain Monsters along the banks of the Hudson River by August. Maybe sit at one of Cena 2000 best tables and stare off across the water. I ended up at the restaurant twice during the one week I spent in Newburgh and New Windsor.
Yes, It's true; one week barely makes a summer long escapade of novelistic adventure. But it was all my body would allow, as the pain in my back and shoulder nagged so bad that I had to cancel the remainder of my trip and hurry back to Florida and make an emergency visit to the back doctor. PAIN is funny that way, it doubles you over, and I have learned a lot about it since that fateful night in 2013 when my bicycle went into that hole.
You all remember that, right? How could you forget? I can't, the constant re-emergence of the injuries keep me off my beaten track of selling books. Now, perhaps, it has affected my writing; the travel required to get the story.  Nothing sucks as bad as these last two years since that night.
But, despite the fact I could not stay up there as planned and write my next great adventure… I did get to return to the McQuade Campus where I grew up and relived the  memories needed to develop the story's characters and scene development. After all, we have to accept what life gives us, when it wants… and do our best to move forward. Thus, I took hundreds of pictures and made tons of recordings to bring home to assist the memory.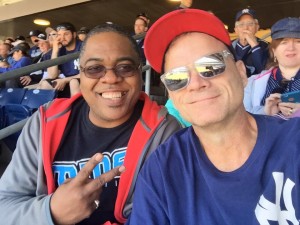 My first day in the northeast was spent at the Yankee game with my AUDIO THEATER business partner, Jeff Douglas. Many of you may remember Jeff, as we were involved in a start-up new entertainment company before my accident.
It was good to see my HBO buddy and we chatted about all things that would have been. Unfortunately, as this art form is still pending trademark and patent steps, you know we still can't talk about it. The process is long and involves so many working parts in the audio and acting fields.  Talking all this over, we watched as the Yankees were handed their hat here at home by the Rangers. We didn't stay to see the whole game, as the fifth inning came, the seats became too much for me and we left. YANKEES got killed anyway.
Just north of the city sits the small town of New Windsor.  That was my next destination. It was here at a  residential school called The McQuade Foundation for Boys where I found a family as an abandoned youngster from 1976 through 1982. During those years, I banded together with four other kids who'd been through a similar hell I knew of being dumped by a parent.
Kevin Lester, Anson Moore, Stanley Lewis and Roger Miller were my friends…. we bonded, had all been thrown away like trash on the side of the road by our irresponsible parents. That helped us form deep emotional friendship which still bring a tear to my eye in the wee hours of darkness. Those friends and the place, staff and teachers… they saved me. I found a home, a place where all my pain and anguish was understood. I suddenly had brothers; we cried, laughed and shared our dreams for a better life. They were my heroes; we sliced our palms in the solemn oath of blood brothers and life was now good.
Standing out among all the houseparents who worked the cottages was one particular knight in shining armor, the only adult who mastered the magic of making my fears and insecurities melt away.
His name was Clifford Webb. A counselor on the campus and the head of our fifteen boy cottage, he was part time New Windsor volunteer ambulance EMT and we all looked up to him like a father. The glue which bonded our mental injuries; he healed our broken hearts and taught us how to deal with our raging emotions. Clifford was a giant in the eyes of every boy he cared for. The McQuade Foundation was our home. To we kids who were mentally traumatized and physically abused by the actions of our run-off parents, Clifford became what many of us had never known: a herculean father, best friend and last stop savior. As the years stretched on at McQuade, I learned a great deal from him and the childhood relationships formed with the other kids. My life became bearable, the stabbing pain of loneliness faded and I would even say… I was happy for the first time in my life.
Then, I grew up, and when I left that place, life fell apart.
But I never forgot. The friendships I experienced at McQuade would stay with me for the entirety of my life. I knew, many years later, that without those kids and the wisdom whispered into my young ears by Clifford, I may have never made it out of the deep hole my life would later become.
Thus, a few years ago, after I wrote my movie script Destiny, and before my accident, I outlined a novel about McQuade and the frightfest of monster experiences we all conjured there. I started the fictional account in early 2013 right after I sent Cataclysm to the editor. Back then, I knew it was time to write a YA thriller and fantasy novel about the storied place where I grew up… and now, as my physical rehab from my neck surgery was ending and before my upcoming shoulder surgery, I felt it was time to head back in time to the one place which planted the root of writing in that young, frightened boy.
I was blessed to have been given free access to search through the grounds and it afforded me the opportunity to cleanse the hole ripped in my heart over my shattered childhood. Investigating what had happened to my three best friends… I learned Stanley died in a tragic fire, Anson languishes in a New York Prison serving 25 to Life and Kevin died in the terrible AIDS Pandemic of the 1980's. Finding this all out hurt, it was like being kicked in the stomach…. but, it also caused me to realize, I was the last survivor of our clan of friends, and it made writing this story much more important. It would be up to me to write their tales, bring forth their spirits for the world to read of and to help people understand the plight of abandoned kids. Nobody else can do it… this is my tale to tell and I had that sacred blood oath to keep. That promise we all made to be FRIENDS TO THE END.
Walking through Fulton Cottage where we all lived, I glanced into my boyhood room… it brought a tsunami of memories pouring back. The nights when we'd hear the wind rattling the windows, the tree branch shadows casting across the moon lighted windows. There were tales of monsters, the constant attacks of ghosts up in Hill House and the weird old caretaker, Seymour. Sometimes, we thought… he'd stalk the cottages with cutting sheers and wipe us all out. That was boyhood, we scared each-other half to death. What fun, huh?
Now, forty years later, things have really changed.
Progress is always forward gaining. People pass on to that mystery in the next realm. Faces change and life goes on.
The McQuade Foundation For Boys is no longer here in name… it has been taken over and replaced by an outfit named Saint Christopher's Inc.
That's life I thought. Anything is subject to change, like the winds of time, man plans and God… well, you know… he/she/it laughs. Walking out of the cottage that day late last week… I thought of how many other kids died in their search for adulthood. Three out of four of us never made it. I was lucky, the last man standing out of four best friends… everyone else, POOF!
Sometimes I wonder if remaining behind is a blessing or a curse. After all, how many times can a man get knocked down, hurt, almost destroyed? Getting up has always been my strong point, striving for life, hoping against hope, praying on my knees for the experience of life. I suppose I was blessed with a long life, because here I am despite tragedy… and those kids in the picture… they're gone.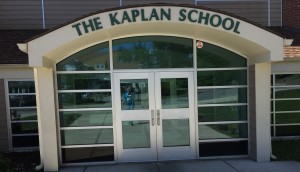 Walking the campus I came across the BEST THING that is happening at Saint Chris' McQuade Campus in New Windsor.
The Kaplan Career Academy is a two story educational marvel built on teachers' hopes and dreams for a better future for disenfranchised kids. I spent three days here, watching the halls as they were packed by ninety students, moving from class to class, each kid hailing from different backgrounds.
I soon discovered talent here, and was happy to have been invited to speak to the English classes of Mrs. Brittany Spoor.
The kids were engaged, bright and extremely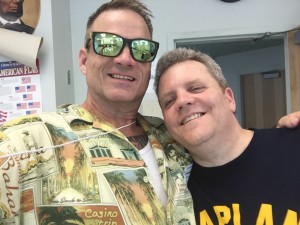 intelligent. We spoke of writing, poetry and music.
Along the way, and really making my visit resonate, was an amazing History teacher and now my friend, Christopher DiCesare. Watching as he worked his magic in the classroom, I was pleased to see how flawlessly he managed the kids and kept their attention. It takes a special kind of teacher to work with these special kids. Soon, I learned Chris is a very talented writer, and he was scheduled to appear on Coast to Coast with George Noory to talk about a book Chris wrote retelling a ghost attack he experienced more than thirty years prior.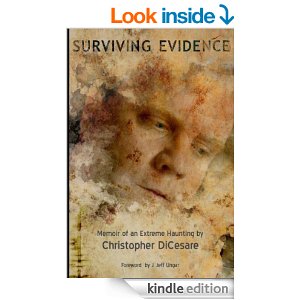 The book, SURVIVING EVIDENCE (Dark Moon Press – May 26, 2015) is a chilling tale and flawlessly explains a paranormal event that shook the writer's life when he was a student. I recommend it.
After four days on campus, and only one week after leaving home, my back began to give out, the pain was unbearable, and I knew right away, I had to immediately return to Florida to see my back surgeon. I had been putting off any thought of surgery since my close call with possible death after my December 2014 month long hospitalization due to the very serious complications of surgery to repair damage from the biking accident.
But before I left, I had one more thing I had to do, which was attend an event for The Wounded Warrior Project down at the Newburgh Riverfront.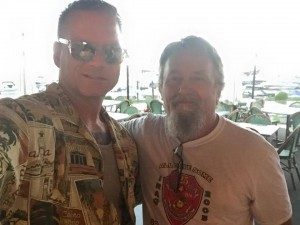 I had agreed to help out the charity and there was no way I would allow myself to let down our heroes.
But soon after appearing at the Wounded Warrior Fundraiser, I returned to the campus and Kaplan School and hastily bid farewell. My summer long trip would not be, and alas, here I am right now, back at my spine doctors office in Florida.
It all makes me wonder, will I ever be able to wander off across the country again and write another novel? Although my passion is there, the pain and agony is so great I really have come to realize that perhaps my career, as I once knew it, is over. I don't know how to deal with the pain of my injuries, it distracts from my writing ability, travel and it has now been more than two years since I did a signing event.
Despite it all, I am happy I was able to at least see the place where I once grew up, met some amazing people, did the fundraiser and collected a lot of memories for that one day I might be able to actually sit for more than an hour and write my tales.
https://www.rjsmith.net/wp-content/uploads/2015/06/11295544_862139730506536_1291762347740172565_n.jpg
720
960
RJ Smith
https://www.rjsmith.net/wp-content/uploads/2013/04/rj-smith1.png
RJ Smith
2015-06-02 10:32:00
2015-09-04 00:33:09
The Monsters In The Woods