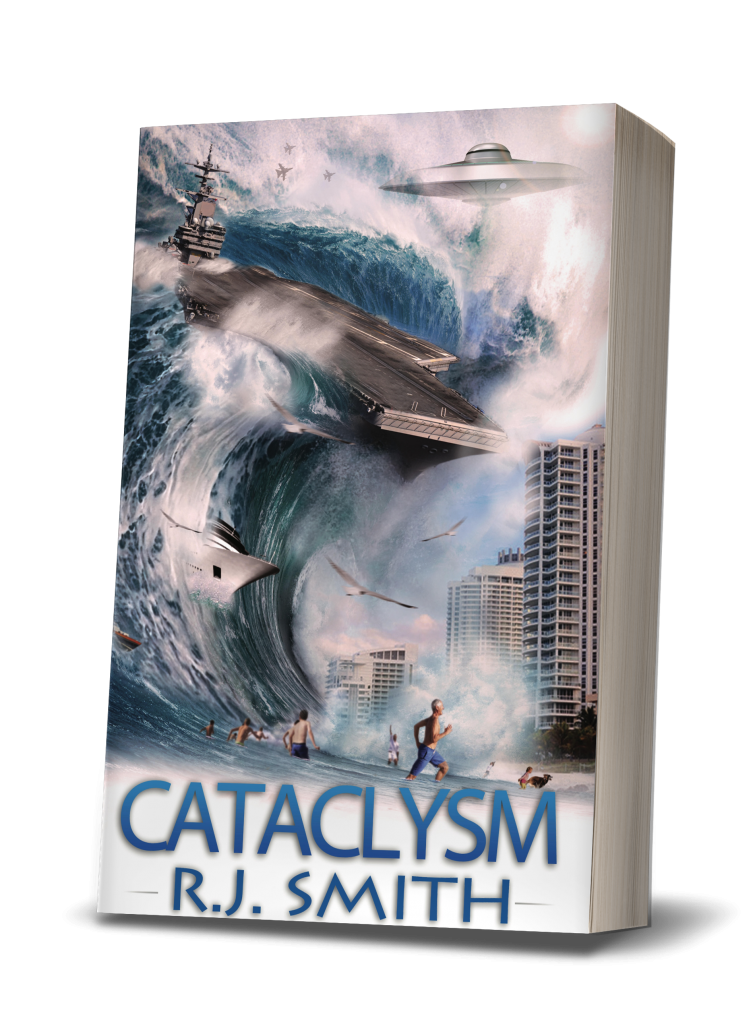 "A 4-star rated thrill ride." Highly Recommended

By Jackson Lee

A friend said I should read this book called Cataclysm by this author and said I wouldn't be disappointed. For my friend to outright say this, it had to be… so, I bought the book. All I can say is "HELL YA!!!" I was just blown away by this writer's style. There was so much action from beginning to end surrounding a natural disaster that would wipe out the east coast of US of A. My favorite is the Pope! Yes, the Pope…what is he doing in this book?! The Pope is phenomenal, he is out to fix what may be wrong with the world and gets caught up in a conspiracy involving an alien intervention… oh S***!!!! There are many other exciting storylines military espionage, countries dignitaries saving as much people as they can, but more so nations working together for survival. I really want to ride aboard the cruise ship Valencia that Mr. Smith describes, trust me I've cruised many. You just have to read this to believe it. The author's interpretation of events are so vivid, its like watching a movie and I couldn't put this down until the end! Again, highly recommended! I just bought his other book the Santa Claus Killer!

5.0 out of 5 stars The best summer read you will find!

By Parsley – See all my reviews

This is an awesome summer read. Cataclysm is an epic story and each chapter is a cliffhanger the keeps you reading more and more. As you read the story plays out in front like a summer blockbuster, you will not be disappointed!
5.0 out of 5 stars A Fantastic Read!
By Trica M Stopowski
RJ Smith has a fabulous writing style. This book kept me on the edge of my seat. If only I didn't have to work I would have read it from cover to cover without putting it down. It has complex characters that leap off the page and come to life. The world is in imminent danger of cataclysmic proportions, I am biting my nails and Mr. Smith inserts humor and I laugh out loud. I love that he uses pop culture phrases throughout the book to keep things lively. I thoroughly enjoyed Cataclysm and I am recommending it to all my friends. I absolutely loved Santa Claus Killer as well so I knew Mr. Smith would not disappoint.
5.0 out of 5 stars Thrilling ride of a novel!
By Beathag
"Cataclysm" by R.J. Smith was a totally different read for me. I've seen a lot of natural disaster movies but never read one ~ until "Cataclysm" occurred. I loved the shark scenes and can quite (happily) say that I could really picture the body parts resurfacing the waters with a *plop, plop, plop*! At one point I thought of a scene from the movie Sharknado where someone is inhaled by a shark and then sometime later uses a chainsaw to escape ~ I'm thankful that R.J. Smith didn't use a similar theme as he makes his novel realistic and extremely, scarily believable.
All the characters are very strong and well rounded. I was really rooting for a couple of them to escape the horrors of the story they were thrust headlong into….
During the book, the author added live streaming links which came as a nice surprise whilst reading on my ipad. There were also a couple of color logos which added "texture" to the novel. The author uses different fonts during his written work which really makes his books have a different feel to your average book.
This is the second novel by R.J. Smith that I have had the great pleasure of reading, the first being "The Santa Claus Killer". The author really made me, as the reader, feel as though I am riding along in a Hollywood movie. The scenes are splashing through my mind as I read ~ and that takes a real talent. I'm really looking forward to seeing his books in the cinema in the near future. They will be loved worldwide that I can be sure of.
Many Thanks to the author for granting me a copy of his book "Cataclysm" in exchange for a fair and honest review. I'm really looking forward to his next novel.
4.0 out of 5 stars Intriguing
By Steve Steinbrecher
The book was a quick read. Unexpected twists and turns for a Poseidon adventure tale. Good and colorful narrative concerning the La Palma volcano. I never saw websites in a book before that I could look up. Only thing missing was a bibliography listing the authors' research. This book was much better than his first novel.
4.0 out of 5 stars A Thrilling Plot with Twists That Keep You Gasping
By Lisa
A thrilling plot with twists that will keep you gasping. In a race against time to save the world from mass destruction via a volcanic collapse, earthquake and cataclysmic tsunami, the lead character attempts to convince the United States leaders that this cataclysmic situation will be a threat, world wide. In addition, he questions if his wife is still alive, or dead. That is just one situation that occurs with one of the main characters. RJ Smith takes us on a journey that answers the ever thoughtful question, "Are we alone?"
Every scene is detailed and I could clearly visualize in my mind each event, which took place; the cruise ship, the island, the conference, and the volcanic eruptions as well as other action packed scenes.
4.0 out of 5 stars A thought provoking roller coaster of summer adventure
By Jenny Knippa "Story Seshet"
Reading on a plane, a cruise-ship, or a beautiful exotic beach this summer? Then I have the perfect vacation read for you. Buckel your seatbelt and make sure your life preserver is within arms reach; you just might need them. "Cataclysm" is the second novel from unconventional novelist and screen writer RJ Smith and is this summer's first high-octane adventure. Separated when the disaster begins, the story follows husband and wife volcanologists as they as struggle to survive the worst geological disaster in recorded history and save as many people as they can.
This novel hosted small explosive chapters keeping me on the edge of my seat, anticipating certain death for main, secondary and background characters alike as a killer tsunami sweeps across the atlantic ocean. I read the paperback which is the only way to read Mr. Smith's work. He doesn't format his work into tiny souless boxes of letters on thin cheap paper. The stock is thicker allowing for single page turns every time and the font is easily readable even in low light. Mr. Smith's narrative style is like nothing I have seen in the market today. It is rememisent of the illuminated manucripts of the renaissance. This unique method of changing fonts enhances the emotion and humor of his story while warding off reading hypnosis.
This novel is populated by realisitic characters who have their own individual "voice" — unique dialog structure and well crafted accents when necessary. This cast of characters provides someone for every reader to like, root for, and condemn, On the surface one might think find the plot ripped from a Syfy Channel Saturday Night Original, but it is the sub-text which bursts through and makes "Cataclysm" shine. This is a disaster epic is grounded in the philosophic and would keep book clubs knee-deep in conversation of weeks.
Is "Cataclysm" worth the price and the time to read it? Absolutely! In fact, when you release that last held breath and sit back in your chair to take the whole of the journey in, you may be of the opinion that its worth double.
5.0 out of 5 stars One of My New Must Read Authors!
By Karen Bryson "Karen Mueller Bryson, novelist …
Dan Brown meets disaster movie is the best way I can describe CATACLYSM by R.J. Smith. The book is a thrill ride that will keep you turning pages.
I have to admit I was a little hesitant to read this book when I saw the cover. Being consumed by an enormous wave has always been one of my greatest fears. I have nightmares about it. But I'm very glad I overcame that fear and read this gem of a novel.
R.J. Smith has a unique writing style that immediately draws the reader into the heart of the action. And there's plenty of action in this fast-moving and gripping tale.
I highly recommend CATACLYSM. I've already purchased copies for my family members and recommended the book to my friends.
5.0 out of 5 stars Cataclysm is all your favorite books rolled in to one!!!
By LibertyFan
RJ Smith's new book is a monorail ride that will whip your hair out behind you and astonish you with the minutiae in this man's mind.
This book is profound in the details that this writer has accomplished i.e. Dan Brown, but not specific to one genre.
He astonishes with his details of presidential staff, White House policies, nautical knowledge, London's hierarchy, Roman catholic
saints and the history of the papacy. Cataclysm is all your favorite books rolled in to one; Jaws, Angels and Demons, History of
New York, Close Encounters of the third kind, but I can't continue, I am giving away all of R.J.'s secrets. Read the book. This is
a made for the big screen book if I ever read one!!! (and a movie that I would not miss!!)
I received this book as a gift and cannot wait for this authors' next book……….
5.0 out of 5 stars THIS HAD EVERYTHING
By Kevin
I had never heard of this author before, but I took a chance due to curiosity as to how the writer got the pope and an alien into the same room. I have to WRITE…. WOW. I found action in these pages… great dialogue and situational comedy.
From page one, LITERALLY, this writer pulled me into an immediate earthquake, unfolding global Vatican conspiracy, military intervention, an alien invasion, before wrapping all this into a tightly written action adventure thriller.
I don't understand where the one star review came from on amazon, but clearly it should not be attached to this book.
Whoever RJ Smith is, he's been long overdue arriving here.
The story took me around the world to experience something I don't believe I've ever read before.
5.0 out of 5 stars Exciting and Suspenseful
By Glenda (MOUND CITY, KS, United States)
Cataclysm by RJ Smith is an exciting and suspenseful read. Yes, I am biased. However, I think it is important to let you, the reader, know that the plot, characters, and descriptive scene setting took my attention away from the editing process many times. From the BETA read to the final edit, Mr. Smith's unique writing style thrilled and entertained me.
The human experience exhibited through realistic characters, accurate depiction of scene locations, along with the combination of current events and scientific research mixed with ancient and current conspiracy theories is what makes this a fantastic read.
5.0 out of 5 stars A meaty, complex, plot-twisted masterpiece!
By Carol G Hovsepian
In his second novel, author RJ Smith once again pulls his reader into an intricate, thrilling plot with ironic twists to save the world of planet Earth from mass destruction via a volcanic collapse, earthquake and cataclysmic tsunami. Smith's unique writing style has the foresight of taking time to let us fully understand and feel what is inside each character's mind, heart and motivation, including the Pope who discovers a secret that compels him to beat the clock and save humanity. Each chapter in itself is a complicated and juicy roller coaster ride that keeps you on the edge till story's end. An unusual author's feat to write a book that can't be put down. I love when a book like this is written. Makes me feel my money wasn't wasted.