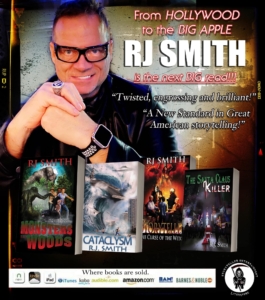 Homicide Detective Sgt. Mike Murphy and his then partner, Lt. Rico Martinez, were virtual celebrities of NYPD's Manhattan Homicide Division. When the Daily News, New York Times and NY Post hailed the detectives "modern-day heroes," everyone knew they had reached the pinnacle of their careers. 
Now, five years after tracking down The Santa Claus Killer, Dr. Richard Blake, and his murderous treacheries were filthy bygone memories. His long line of dismembered bodies was just another string of fading memories. Christmas of 2013 seemed like a century ago, and one murder at a time… things had changed around Manhattan South Homicide's bustling squad-room. After receiving the second-highest departmental award, the Green Ribbon Police Combat Cross from the Mayor, both detectives moved on with their storied careers. Joining Mei Ling on the FBI Serial Killer Task Force, newly credentialed Special Agent, Mike Murphy didn't miss the homicide squad. One of five thousand law enforcement officers hired away annually from police departments across the country, Murphy loved the Department of Homeland Security. He found the job challenging yet worthy of his skills, tracking down spree and serial murderers. There was nothing like the rush of the chase and the thrill of a capture. Rico rarely thought about his years at the NYPD anymore
Those decades of award-winning service were in the rear-view mirror of life. Turning in his NYPD Detective badge, he traded up for a gold Deputy Chief badge of the Miami Beach P.D. It was a cush job, pretty much. supervising patrol officers who gave out thousands of tickets, policing the beaches, and keeping celebrities like Justin Bieber and others safe. Rico loved his job until corpses started turning up half-buried in the fine sugar-sand beaches of Ocean Drive in South Beach.
Thinking his men could track down the killer without FBI involvement, Rico had his CSI division processing a bludgeoned body found on 16th street right behind the Delano Hotel. But, when two more victims turned up with a name sliced into their torsos, the deputy chief knew he could only make one call. It was time to bring in the FBI Serial Killer Task Force and his best friends… Agents Mike Murphy and Mei Ling.
Updated: July 30th, 2021
Latest News
2021

It's been months since I've posted anything here. The reasons are many. In February, I lost my beloved pointer terrier, Destiny, whom I saved from death row at the shelter more than eight years ago. Then, in March, mom passed away from lung cancer. This post was supposed to outline my retirement from the entertainment […]