RJ Smith at Seaworld Orlando, what a wonderful time, I encourage all my fans to come have The Best Day of your life! pic.twitter.com/yeTD1ry4qg

— RJ Smith (@TheRealRJSmith) February 10, 2015
I have just returned from a complimentary visit to Seaworld Orlando, and, the day before walked the Busch Gardens Tampa park. Thus I must thank the wonderful staff and employees for hosting my visits.
For my amazing fans around the world who are not familiar with this amazingly FUN and EXCITING theme-based entertainment experience (Maybe you live on another planet), Seaworld is a publicly traded (NYSE: SEAS ) company that operates and maintains eleven exceptional theme parks throughout the United States.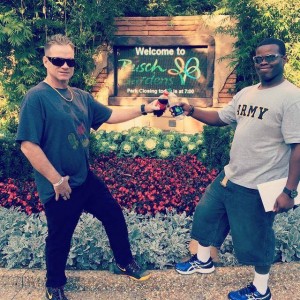 Our first visit was to Busch Gardens Tampa that we found pumped with excitement thanks to clear skies and a busy park. We had traveled here following a rough month of scripting and location scouting for my newest project… so we were happy to find relief in the EXCEPTIONALLY FUN environment created by SeaWorld Entertainment.
Although I can no longer ride them due to a spine injury, the park offers an entire host of experiences, from Thrill Rides, Water Rides and of course, land and sea Animals. My personal favorite was the Serengeti Safari (which I highly recommend).
Busch Gardens parks
That brings me to SeaWorld Orlando which was simply amazing. We came for the Animals, and in particular,  to see whales.
The magnificent sea animals were just stunning; there is no other way of stating it. The show was well orchestrated and handled professionally. Although the handlers no longer enter the water with the Orcas, we hardly noticed the difference. SeaWorld rocks and I couldn't help but smile.
For more information on the wonder that is SeaWorld Entertainment, please click through to their adventures and check out SeaWorldCares.com and SeaWorld.com/Truth ,
SeaWorld parks
Water parks
Other parks
It had been twenty years since I last visited the home of the Orca Killer Whales and that was our first stop on this rainy day.
Having the opportunity to watch the amazing Bottle-Nosed Dolphin show and then experience the Dolphins Up-Close Tour, I was blown away by the fascinating Shark Encounter where visitors journey through one of the world's largest underwater viewing tunnels.
But the park has much more than underwater animals.
There are roller coasters, water rides and much more. Although on the day we visited, our experience was rained out and thus we missed out on much of what the park has to offer. We did walk the park and see every experience, but unfortunately, mother nature forced us to find cover.
The park has something for everyone.
Rides

Shows

Exhibits

Exclusive Park Experiences
I myself am a big fan of the wonderful people who run this amazing company, and I wish I could name everyone who makes this possible. There was a smile on every face at the park and each time we asked an employee a question, they all answered: "Yes, Sir, it would be my pleasure."
That was wonderful.
For us, we especially want to thank the SeaWorld Communications Team who made this adventure possible for us on very short notice.
To book your fantastic experience at SeaWorld, please visit their fun and exciting website www.seaworldparks.com for videos and ticket information.
FOR PASSES TO THE PARKS:
Buy a Pass

Current Pass Members
FOR TICKETS TO THE PARKS:



Buy Tickets

Vacations

Annual Passes

Upgrade Your Visit
https://www.rjsmith.net/wp-content/uploads/2015/02/10985598_10206023610248288_2294251994176393951_n.jpg
720
960
RJ Smith
https://www.rjsmith.net/wp-content/uploads/2013/04/rj-smith1.png
RJ Smith
2015-02-10 11:29:53
2015-03-21 00:27:16
THE SEAWORLD ADVENTURE