FANS, Friends and horror fans everywhere.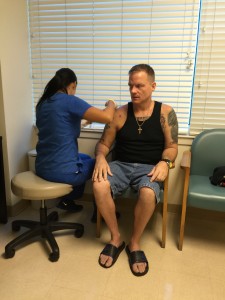 I know it's been some time since you've all heard a peep outta me. I haven't passed onto the hereafter, and despite rumors on the Internet, it is true, I can definitely confirm… I am not dead. Although, as many of my followers know, sometimes I feel like death. But I wont get into that agony here, you all know about the 2013 bicycle accident and the 7 surgeries due to the injuries incurred from it. I know many of you have been waiting… and waiting for the publication of my third novel, Monsters In The Woods. Originally, the 500 page thriller was scheduled to be completed, edited and off to my literary agents by spring 2015. Right now, I should be on a US/UK tour promoting the new novel, but unfortunately… life sometimes throws those curve balls, and we have to deal with it.
The 214 completed pages of MONSTERS just stares at me from the display of my iMac, taunting… a haunted curse so wretched that my den feels filled with the sorrows of hell. (sigh)
I am now bankrupt, as I lost the first two international book tours and all the advertising money and income from book sales. The surgeries and surgeries, and non stop doctor appointments, pretty much rule my life. That strong jogger, gym rat, the muscled guy that I was? All but gone. Now I suffer nightmares, see a shrink and take pretty serious medication to keep the demons at bay.
Between rehabilitation of my serious lumbar spine surgery in December 2015, (YES – I WAS IN THE HOSPITAL AGAIN FOR THE SECOND CHRISTMAS IN A ROW) and the ongoing recovery, I am JUST starting rehabilitation. Sitting around my hive of computers and writing… that's just not possible. The pain from the implants in my spine… neck, shoulder… well, it has kept me housebound and bedridden. Plus, the shoulder is acting up, and I am scheduled for surgery #8 on 1 April 2016 – yes, April Fools Day!!
So I ask for your prayers once more… that the surgery will be a success, and that the four months following with my arm languishing in a sling will pass quickly.
I am will soon be sharing with you the hardcover dust-jacket of MONSTERS so it entices you to hang on. One day this summer, it shall get done, but nobody is sure who will be selected to publish or release the saga. Perhaps, if you send all your prayers my way, and ask for spiritual protection of my lawyer Mr. Stephen Barnes, one day this will all be corrected and I will get my life and career back on the road. By the way, if you reside in the Tampa area, western Florida, I sincerely… and highly recommend this attorney, he and his people have kept and continue to keep me sane.
Stay up to date on what is happening by following my Celebrity Facebook and Twitter pages. Expect me to stand back up, brush off my injuries and forge back onto the global stage with a new masterpiece. I always say, it's never over until that casket closes the deal.
RJ Smith
March 15, 2016
www.rjsmith.net
www.rjsmithproductions.com
https://www.rjsmith.net/wp-content/uploads/2016/03/CATACLYSM-in-LA-TIMES.jpg
540
960
RJ Smith
https://www.rjsmith.net/wp-content/uploads/2013/04/rj-smith1.png
RJ Smith
2016-03-14 10:10:01
2016-03-17 21:12:55
FIGHTING FOR MY LIFE