What Reviewers Are Saying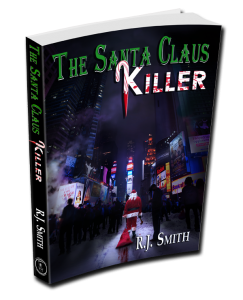 5.0 out of 5 stars Santa Presents Tied Up In Strings! – By Thomas W. Parsley
Talk about a ride! Throughout every chapter the story is on the move and has you twisted! I love how the author takes the reader into the minds of each of the main characters. With so many personal backgrounds and viewpoints that are explained so well, you really felt like you were right there watching the events unfold. What also grabbed me until the very end were the questions and possibilities of resolve. There are no dull moments here and these possibilities that were naturally planted throughout the story leave the reader "solving" throughout the entire read. Excitement, intrigue, satisfaction and closure sum up my experience reading this book…I'm looking forward to reading more from RJ!
Laura Morella
"EXCELLENT STORY!!! Scared the crap out of me and I had to stop reading a few times! That's the kind of thriller I like! Scariest book since THE EXORCIST."
5.0 out of 5 stars Fantastic Page Turner – By Julie Brown
I will never look at Santa the same way again! This book is a fantastic, suspenseful thriller with excellent use of the Jingles that we know and love to new ones that will chill you to the bone! Excellent execution of storyline and fabulous dialogue. I recommend this book to crime, mystery and horror fiction fans alike. Great Job, R.J.
5.0 out of 5 stars MUST READ WITH THE LIGHTS ON – By Ray Helmers
You better watch out, this is going to be a best seller. The Santa Claus Killer is a real creep show. A psycho-thriller that is relentless in its writing and doesn't let go. RJ Smith is a powerful new master storyteller painting graphic words on every page. I haven't read anything this gripping in years.A terrifying slay ride of a read.
5.0 out of 5 stars Faithful Stephen King Reader – By LibertyFan
I am so sorry Stephen King and Dean Koontz. I didn't mean to be unfaithful but OMG, There is a "new kid on the block", seriously. What? Not one to ever switch from my macabre hero's, I thought, "what would it hurt to read it?" OMG, NOW I CANNOT WAIT FOR THE NEXT BOOK! RJ Smith, you are not only, "On your way", you are there, Mister!! I praise your writing. Now there are three writers that I absolutely must have every one of their books. Congrats Mister!!!!
5.0 out of 5 stars Very Exciting & Thrilling!! A Page Turner! – By Trisha Cook
I have to say I don't read a lot of books. A friend of mine asked me to take a few minutes and read a little of this book called, The Santa Claus Killer. I thought to myself okay really a Santa Claus Killer. I sat down started reading and I could not put the book down. I could not wait to turn the page to see what was next. It was exciting & thrilling! I felt like I was right there and I could not wait to see what was going to happen next! RJ Smith is a great writer and I can't wait to see what he writes next. I may have to start reading a lot more books if he continues to write like this. Awesome Book!!
4.0 out of 5 stars A GRIPPING NOVEL OF MYSTERY AND SUSPENSE
By John Scheifele – Filmmaker, Capriole Productions, Inc.
The Santa Claus Killer is a astounding work of suspenseful fiction. Set throughout the streets of Manhattan, his level of historical accuracy blew me away. Most incredible was this: at times, I hated the character, "the Santa Clause Killer" other times, I found myself oddly understanding him and his wretched life. I have read many many manuscripts from those wishing to become novelists. To date, only 3 have done so out of the hundreds I've read.I highly recommend this very gruesome, highly gripping and entertaining book! I hope to see it produced, too, by a Hollywood producer.
5.0 out of 5 stars SUPERB STORY AND EXCELLENT WRITING TALENT – By Noakai
It's been a long time since I read a really good book that I truly could not put down and was compelled to read chapter after chapter. An EXCELLENT story! Mr. Smith has a rare and special talent to not only write a good story but to write in pictures. I was captured in the moment of every chapter wanting to read more, feeling as though I was there and a part of each scene. From the introduction of characters, to the story that builds around them, the author makes you feel the character's emotions, lifestyle and heart. His talent in writing the detective scenes as they chase the diabolical killer is SUPERB and the killer himself was written … well, let's just say he made my skin crawl sending chills up & down my spine. This is by no doubt, hands down, an AWESOME book. Just the cover alone says its a MUST READ! In final words to RJ SMITH… thanks for your storytelling as I put you in the company of great writers such as Elmore Leonard, Ann Rice, Stephen King and Sidney Sheldon, you are the new kid on the block and welcome to the neighborhood! I look forward to your next book.
5.0 out of 5 stars MOVE OVER STEPHEN KING – By mantle1958
If you are a fan of the horror genre then this is a book for you. It is refreshing to see a new and unique talent emerge in this field. This book is skillfully written, as scary as hell,an original story and one all round great read. Move over Stephen King you have a serious rival.
5.0 out of 5 stars A Santa that will give you nightmares! – By Linda L. Barton
RJ Smith has created a story that will pull you in and hold you there until the last page. This story isn't Sugar and Spice, so be prepared to leave all the lights on while reading this tale of terror. I found myself cringing at what this Santa would do to his victims. RJ was able to clearly paint the images in my mind. I highly recommend this book for those who enjoy losing themselves in a dark, and twisted world.
5.0 out of 5 stars A unique, compelling writing style for a thriller! – By Carol G Hovsepian
I don't usually like to read stories about trying to find murderers running havoc. But, I have to say, the brilliant, unique writing style that author R.J.Smith uses to suck you in, is compelling in itself. It's clear that the author knows NYC inside out which makes us visualize that we are not only following bad Santa ourselves through Times Square, but also makes us aware that we, as readers, are being followed as well.And that's creepy. His chapters don't follow a traditional flow as found in most fictional books. He deviates from some chapters to focus on a specific character or two that really pulls us into their minds and motivations. I love that! You feel you know these characters and the murderous world they partake in even if you've never been to NYC.
5.0 out of 5 stars Thrilling … chilling … killing. – By PLS

This fast-paced novel will have you turning on all the lights and turning up the heat before you attempt to finish it. Just when you think things are going to slow down, the killer jumps out again and keeps you glued to your seat to find out who he's going after next. A real page-turner!